ohai!
finally touching this post too. LOLOL! <–gets slapped
Date: 26th June 2011
Time: 12pm
Venue: Pasir Ris Downtown East
Character: Kawakami Bansai, Gintama
Outfit: teal coloured hair, teal coloured cloak, black pants, headphones and sunglasses.
Weapon: Shamisen and katana (not hidden though)
retarded face:

yep did a mini group shoot with my beloved Kiheitai team.
I love u all pls. thank you for making my dream team come true~<3
and here's one of the pic from the shoot:

anyway, same thing.
no words, just pics spams. HUR.
v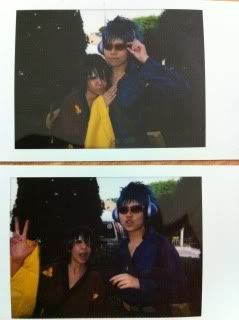 Also thanks to KC once again for the COSFEST Vid #2:

Finally, sharing something cute:

WAKAKAKAKA~<3
GINTAMA FTW PLS!!!